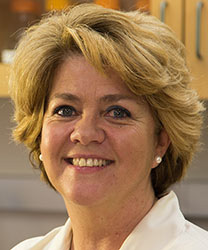 Research Interests
My research interest focuses on the microbiome development from birth, functions for the host, impact by modern urban practices that reduce microbial transmission or disrupt the microbiota and strategies for restoration. We integrate the fields of anthropology and physiology into microbial ecology to understand the microbiome functions. Other efforts focus on a global initiative to preserve microbiotas important to humankind called "The Microbiota Vault", that involves education and promotion of creation of local microbiota collections with backup stored in a safe place, and sequencing the specimens for public use, supporting global research.
Specifically, our current projects include:
Effects of early microbiota stressors on microbiome maturation and host development. We are performing studies in mice, humans and non-human primates.
Functional importance of breastfeeding on microbiome maturation in humans.
The effect of medical exposure on the microbiome of isolated traditional peoples.
Funding: NIH, CIFAR , Emch Fund; C&D Fund,
---
Publications List
---
Selected Publications, 2022–2023
Gauglitz, J.M., West, K.A., Bittremieux, W. et al. Enhancing untargeted metabolomics using metadata-based source annotation. Nature Biotechnology, 2022, 40, 1774–1779. https://doi.org/10.1038/s41587-022-01368-1[C]
Hourigan SK; Dominguez-Bello MG; Mueller NT. Can maternal-child microbial seeding interventions improve the health of infants delivered by cesarean section? Cell Host Microbe, 2022, 30, doi.org/10.1016/j.chom.2022.02.014
Sun, H., P. Yamada, A. Paetow, M. Chan, A. Arslan, R. landberg, M. G. Dominguez-Bello, B. K. Young. A randomized controlled trial of the effects of whole grains versus refined grains diets on the microbiome in pregnancy. Scientific Reports, 2022, 12:509, doi.org/10.1038/s41598-022-11571-4
Van Best, N, Dominguez-Bello MG, MW Hornef, E Jasarevich, K Korsela and TD Lawley. Should we modulate the neonatal microbiome, and what should be the goal? Microbiome, 2022 10:74. doi.org/10.1186/s40168-022-01281-4
Kuthyar S, Watson K, Huang S, Brent JN, Platt M, Horvath J, Gonzalez-Martinez J, Martínez M, Godoy-Vitorino F, Knight R, Dominguez-Bello MG, Amato KR. Limited microbiome differences in captive and semi-wild primate populations consuming similar diets. FEMS Microbiology, Ecology 2022; 98:10 fiac098. https://doi.org/10.1093/femsec/fiac098
Gauglitz, J.M., West, K.A., Bittremieux, W. et al. Enhancing untargeted metabolomics using metadata-based source annotation. Nature Biotechnology, 2022, 40, 1774–1779. https://doi.org/10.1038/s41587-022-01368-1
Janiak, M. C., Decasien, A. R., Chiou, K. L., Villamil, C. I., Stock, M. K., Trujillo, A. E., Depasquale AN, Orkin JD, Ruiz-Lambides AV, Negron-Del Valle EJ, Testard C, Bauman Surratt SE, Gonzalez O, Martinez MI, Walker CS, Sallet J, Dominguez-Bello MG, Montague MJ, Anton SC, Melin AD, Brent LJN, Platt ML, Snyder-Mackler N, Higham JP. Gut microbial diversity predicts brain immune gene regulation in a model nonhuman primate. American Journal of Biological Anthropology, 2022; 177(S73), 89-89. doi:10.1002/ajpa.24514.
McGuire, B. D., Dees, A., Hao, L., Buckendahl, P., Ogilvie, A. R., Sun, H., Rezaee, T., Barrett, L. O., Karim, L., Dominguez-Bello, M. G., Bello, N. T., Shapses, S. A. A vitamin D deficient diet increases weight gain and compromises bone biomechanical properties without a reduction in BMD in adult female mice. J Steroid Biochem Mol Biol, 2023: 106314.
Hourigan SK, Dominguez-Bello MG. Microbial seeding in early life. Cell Host Microbe, 2023; 31:3 331-333
Mueller NT, Differding MK, Sun H, Wang J, Levy S, Deopujari V, Appel LJ, Blaser MJ, Kundu T, Shah AA, Dominguez Bello MG, Hourigan SK. Maternal Bacterial Engraftment in Multiple Body Sites of Cesarean Section Born Neonates after Vaginal Seeding-a Randomized Controlled Trial. mBio, 2023 Apr 19:e0049123. doi: 10.1128/mbio.00491-23. Epub ahead of print. PMID: 37074174.
Tropini C, Finlay B, Nichter M, Melby M, Metacalf J, Dominguez Bello MG, Zhao L, McFall-Ngai M, Geva-Zatorsky N, Amato KR, Undurraga E, Poinar H, Gilbert J. Time to rethink academic publishing: the peer-reviewer crisis. mBio, 2023 01091-23.
Shin H, Martinez II K, Henderson N, Jay M, Schweizer W, Bogaert D, Park G, Bokulich N, Blaser M., Dominguez Bello MG. Partial convergence of the human vaginal and rectal maternal microbiota in late gestation and the early post-partum" NPJ Biofilms Microbiomes, 2023 9:37; https://doi.org/10.1038/s41522-023-00404-5