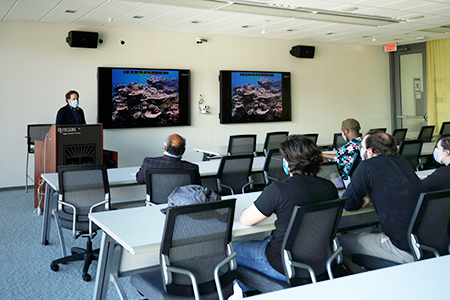 Seminars and Events
December 13,
"Exploration of microbial diversity and metabolic potential in Himalayan glacier forefields"
Anil Kumar
Dept of Biochemistry & Microbiology
Featured Events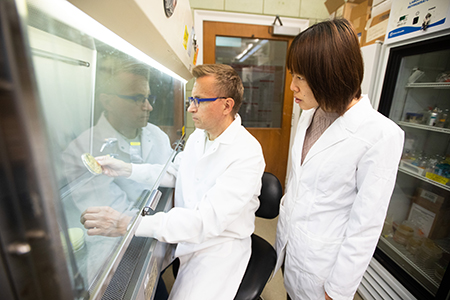 algal phylogeny and evolution
bioinformatics approaches to protein function prediction and genome variation analysis
detection and response of organisms to oxidative stress
elucidating prokaryote activities in geothermal environments
protein folding and subunit assembly
gut microbiomes and health
microbial degradation of environmental pollutants
microbial ecology of arctic soils
microbial transformation of metals
xenobiotic metabolism in aquatic animals
Diversity Statement
The Department of Biochemistry and Microbiology is made up of diverse peoples from diverse origins in diverse disciplines, studying the diversity of life and its mechanisms. We therefore celebrate all dimensions of diversity.
In this time of profound change, it is apparent to us that racism and indifference to the disadvantaged (of any color or place of origin) is a systemic problem in the US that demands a systemic solution. As a department of higher learning, our small but important role in addressing this problem is to remove obstacles to the success of our diverse undergraduate and graduate student body and to ensure that success is measured by ability, not access to resources. These students are the future of microbiology and biochemistry and it is our responsibility to ensure that they have the best possible chance to achieve their individual goals.
Department Overview
Microorganisms are the smallest living things, the oldest form of life on Earth, account for the greatest diversity in the biosphere, and perform diverse metabolic functions and ecosystem services that are essential for life on Earth. Microbiology is the study of all aspects of microorganisms, encompassing bacteria, archaea, fungi, protists, and viruses; Biochemistry is the study of life processes of all living systems, at the level of molecules and their interactions. Our department combines these disciplines in one comprehensive theme in the study of fundamental life processes and their applications from molecules to biomes.
The department sustains the rich heritage of both disciplines. Edward Voorhees established the Department of Soil Chemistry and Bacteriology in 1901, the first department of agricultural microbiology in the country. The biochemistry component of the department had its genesis in 1925 at the School of Agriculture as the Department of Agricultural Biochemistry. In 1965, these departments merged to form the Department of Biochemistry and Microbiology. The academic programs in Biochemistry and Microbiology serve the central mission of the School of Environmental and Biological Sciences, the New Jersey Agricultural Experiment Station, and Rutgers University through the department's fundamental and applied research and instruction in microbiology and biochemistry. The fields of microbiology and biochemistry are major contributors to industrial development; human, animal and plant health; environmental integrity; and agricultural productivity.
The Department of Biochemistry and Microbiology currently has 14 tenure-track faculty and 6 non-tenure-track teaching faculty members. The department's current research strengths are in the areas of environmental microbiology, microbiome-host interactions, endosymbiosis, genomics, bioinformatics, protein structure and function, biofuels, pathogenic microbiology and aquatic toxicology. Our internationally-recognized faculty's research is supported by grants from diverse state and federal agencies (NSF, NIH, NIEHS, DOE, NOAA/EPA, NASA, NJDEP), a range of foundations (Hudson River Foundation, PhRMA, Johnson & Johnson), and industry contracts. Members of the department have published over 200 peer-reviewed publications, many in highly ranked journals such as Science, Proceedings of the National Academy of Sciences USA, eLife, ISME Journal, and Trends in Ecology and Evolution, and book chapters over the last five years.
The department offers two undergraduate majors and minors, Biochemistry and Microbiology, currently with over 80 majors combined. The curricula in Microbiology and Biochemistry cover the professional degree requirements for undergraduate and graduate programs and integrate well with the academic model of SEBS as a professional school. Each encompasses the entire complement of courses as they are recommended by corresponding professional organizations for the education and training of students heading into the work force and further academic pursuits. Hands-on laboratory education is the foundation for excellence in our academic programs. In addition, the department offers many of the core and advanced courses in biochemistry and microbiology required by other undergraduate majors at Rutgers, including the Microbial Biotechnology option of the Biotechnology major. Over 700 students take one of our two biochemistry lecture courses and over 350 students take our microbiology lecture/lab course. To enhance the appreciation for microbiology and biochemistry by non-scientists, the department offers several introductory courses that provide a lecture and interdisciplinary-engaged learning experience for undergraduates with limited or no science background.
The department provides a key leadership role for microbiology at Rutgers University. Our aim is to broadly advance the diverse research and educational experience in the field of microbiology that are offered at Rutgers and promote our rich traditions of microbiology. The department faculty shoulder the core teaching for the SEBS-based organismal-centered Graduate Program in Microbial Biology, launched in 2010, currently with 34 PhD and 11 MS students. The program is focused on fundamental microbial life processes and their applications, and offers a strong focus in understanding how microbes occupy every possible environmental niche on Earth (including frozen arctic tundra, deep sea hydrothermal vents, hazardous waste sites, and the human body) and how the diversity of microbial activities can be exploited to discover novel bioactive compounds, to characterize metabolic traits for degradation of hazardous chemicals, to develop new biofuel production methods, and to promote human health. Since its inception, the program has graduated 9 PhD and 25 MS students who are well trained for their future careers in academia, government, and industry.
- Max Häggblom, Chair

Highlights in the Department of Biochemistry and Microbiology
Honors: Fellow American Association for the Advancement of Science, Fellow of American Academy of Microbiology, Vietnam Education Foundation Faculty Scholar, Visiting Professorship for Senior International Scientists of the Chinese Academy of Sciences, American Society for Microbiology US-Indo Professorship, American Society for Microbiology International Professorship for Latin America, Phycological Society of America Award of Excellence, Marie-Curie Scholar, Hans Fischer Fellow, Darbaker Prize, NSF Young Investigator/Career Award, Society for Industrial Microbiology and Biotechnology Waksman Outstanding Teaching Award.