This summer, "Experiments with GFP: The Art and the Science" will be offered to high school students interested in learning what STEAM (Science, Technology, Engineering, Art, or Math) education in college is like. The facilities at our tier 1 research institution will allow students access to state of the art instrumentation and instruction from experts in the field.  Our small setting approach of no more than 20 student in a section will allow a low pressure environment where students will engage with the instructor and be gain invaluable experience. Students who complete the course receive 3 college credits, transferrable to almost any other college or university.
Our summer session course is open to high school students or first year Rutgers students. More than two hundred students have gotten excellent head-starts in college by taking this course.
Where and When
This hands-on biochemistry lab/discussion course is held in a Rutgers biochemistry teaching laboratory on the second floor of Lipman Hall on the Cook Campus of Rutgers University, 76 Lipman Drive, New Brunswick, NJ, 08901.
The first week would be July 10-14 (virtually) and the second week would be July 16-22nd (academy in person runs Monday through Friday).
Registration
We need at least 16 students for any course section to run. We reserve the right to cancel a section that is under-enrolled. We will do our best to fill the sections and asking a friend in your own school that you might think would be interested would help reach enrollment numbers.  In case of a public health concern and a remote learning mandate, we will offer the experience virtually and be able to present live demonstrations and instruction in during an online meeting.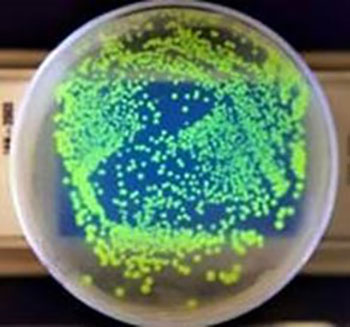 What Is GFP?
GFP (green-fluorescent protein) is a Nobel Prize winning protein used in almost every area of biotechnology and biomedicine. Its brilliant green fluorescence makes GFP an ideal teaching tool, as every step in a protocol can be followed in real time. Unlike most biochemicals, that cannot be seen, GFP is always visible. While primarily a biochemistry lab/lecture course, this is one of a very few courses to integrate the arts with the sciences. The course highlights how natural science displays it's beauty through light and aesthetics.
The Science
In a fully equipped university teaching laboratory, we begin by extracting recombinant GFP from genetically transformed, non-pathogenic bacteria (E. coli). Safety is stressed in the lab, as each student wears goggles, lab coats, and gloves. Lab exercises with GFP include: high speed centrifuging to concentrate the cells, cell lysis (breaking open the cells), ammonium sulfate precipitation to collect the protein fraction, or, alternatively, three-phase partitioning (a seldom used, but spectacular method for purifying proteins). Following these steps you will do hydrophobic interaction column chromatography, and then perform a final "polishing" step by gel filtration. Throughout the process, we monitor GFP purity by UV-Vis spectrophotometry and fluorometry. You will experiment with ion exchange separations on membrane absorbers, test pH sensitivity of GFP, and estimate the isoelectric point of the protein. Every method will be carefully explained by the instructors and questions are always welcomed.
In addition to working with GFP, you will do simple colorimetric tests for peroxidase extracted from soybean hulls and from root vegetables like sweet potatoes, white potatoes, and celery roots. The colored product of this reaction (a teal blue solution) will be used to identify BPA (bis-phenol-A), a potentially harmful chemical found in ordinary store receipts. You will be given prototype BPA test kits to take home to your parents and teachers to test whether your own store receipts contain BPA. You will keep notebooks, write a final lab report, take one short quiz a week, and take a final exam. After registration is complete, a 40-page course called "Introduction to Chemistry and Biochemistry Handbook" written by Professor Ward, will be emailed to each student who requests the course. Much of what we cover in "Experiments with GFP" is included in this introductory course.
The Art
Science and art go hand in hand in being able to learn and display how science works as well as just appreciating the beauty found in nature. Conducting biochemical experiments with the amazingly brilliant green-fluorescent protein is an aesthetic experience all by itself. But, viewing live comb jellies (ctenophores) glowing in the dark, and then later, seeing their 8 rows of fused cilia diffracting daylight into a rainbow of colors is an incredible spectacle. Artistic aspects of the course are not confined to viewing bioluminescence. We will hopefully be able to create beautiful wall hangings directly from dried comb jellies that were collected off the coast of NJ (depending on availability). Near the end of the course, we will have opportunities for you to show how art and biochemistry interface through optional expressive artistic assignments.
Registration
Eligibility for the course requires the submission of a letter recommendation for either a science teacher or a counselor.
Application Instructions for high school students
Visit the following link for high school student requirements at Rutgers High School Student Registration
Send an email or have your legal parent or guardian send an email to Nalini.Kaul@rutgers.edu stating your interest in registering for the course.
Have your letter of recommendation to emailed to Nalini.Kaul@rutgers.edu
After the receipt of your email and your letter of recommendation, we will contact you back via email with registration instructions.